EPEX SPOT - European Power Exchange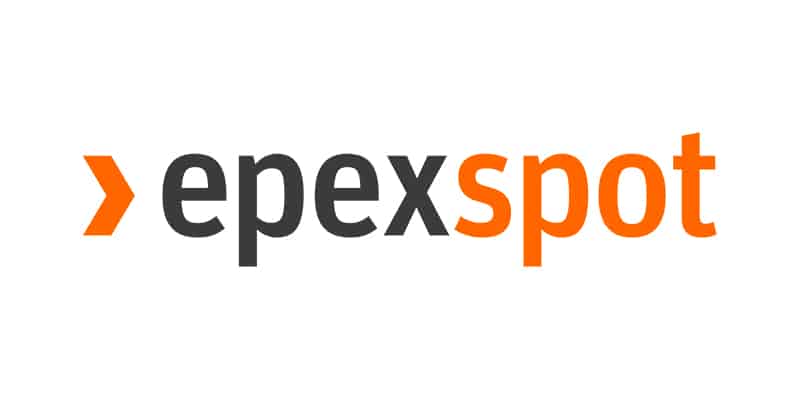 The European Power Exchange EPEX SPOT operates the organised wholesale market for power trading across 13 European countries. 615 TWh have been traded on EPEX SPOT in 2020 – one third of the yearly European electricity consumption.
300 companies, from electricity producers and suppliers to grid operators and industrial consumers, come together and place their orders on EPEX SPOT's markets. EPEX SPOT then matches the aggregated supply and demand, in Day-Ahead and Intraday auctions and continuously, from hourly to 15-minute products.
By doing so, EPEX SPOT creates price signals which trigger decisions on all levels of the power system and optimise electricity flows across Europe. Further, they contribute to the transformation and decarbonisation of the energy sector and to the EU Green Deal via markets and contracts that foster the increasing integration of renewables.
EPEX SPOT's markets stretch across Central Western Europe (CWE), Switzerland, the United Kingdom, the Nordics and Poland. Staff from 24 nations, based across 7 countries form a team where everyone can build on each other. This diverse team is crucial, as EPEX SPOT's markets run 365 days a year around the clock – even during the difficult times of the COVID-19 pandemic.
EPEX SPOT's teams share a common understanding of how to further improve as well as a crisp, clear idea of their mission. EPEX SPOT does more than match electricity supply and demand, they also contribute to security of supply for millions of people, increase social welfare and enable lower electricity prices – from industries to end consumers across Europe.
From Day-Ahead with physical fulfilment to Intraday trading, After-Market and Local Flexibility products – EPEX SPOT is a key partner in electricity trading, boosting innovation and providing a truly pan-European offer across the entire trading value chain.
Day-Ahead markets: the reference
EPEX SPOT operates daily Day-Ahead auctions in all of its markets 365 days a year. Apart from Great Britain and Switzerland, all markets are part of the European Single Day-Ahead Coupling which stretches across 20 markets from Portugal to Finland and from Ireland to Poland. In all its coupled countries, EPEX SPOT is approved as Nominated Electricity Market Operator. The Day-Ahead prices of EPEX SPOT have become a European reference.
Intraday markets: the performant industry leader
The Intraday markets of EPEX SPOT cover CWE, Great Britain, Switzerland, the Nordics and soon Poland. Intraday markets are mainly used for:
Plan generation and adjust purchases & sales closer to delivery
Managing forecast errors or unforeseen events
Adjusting from hourly positions to finer granularities (30 min or 15 min)
Offering flexible generation as a substitution for renewables
Enabling cross-border arbitrage and trading
On the Intraday market, EPEX SPOT offers continuous and auction trading. All Intraday continuous markets run on the M7 trading system, an industry standard in terms of performance and robustness. More than two millions orders are recorded every day on M7.
Innovations: After-Market & Local flexibility markets
EPEX SPOT strives to constantly create, innovate and find new solutions for the emerging challenges of a transforming power sector. They decentralise, digitise and decarbonise the energy trading sector – to remain one of Europe's preferred power exchanges.
With the increase of intermittent production from renewables, hourly contracts can only draw a rough picture of the actual production curve. This is why already in 2011, EPEX SPOT introduced 15-minute contracts on its continuous Intraday markets. In 2014, the first Intraday auction with quarterly contracts of the following day was launched. Due to its timeframe just at the start of the continuous market at 3pm, this Intraday auction provides a reliable price signal with regards to the production of electricity from renewables.
The After-Market is a new product on the continuous trading segment enabling trading participants to adjust physical positions in the ex-post timeframe, once the final information on production and consumption are available. It can be instrumental in reducing imbalance settlement costs. The products are available on the M7 trading system – allowing participants to trade Intraday & After-Market through one trading screen.
To foster the integration of renewable energy sources and to enhance the engagement of consumers and producers in the power market, EPEX SPOT develops local flexibility markets. A neutral and transparent market platform pools local flexibility offers. Market participants gain new opportunities to value their flexible assets, system operators obtain new tools to manage congestions and to optimise grid planning.
Services to other Power Exchanges
As part of their mission to create a pan-European electricity market, servicing other Power Exchanges is part of EPEX SPOT's business model.
Market operation and coupling services in Eastern Europe
The South East European Power Exchange SEEPEX currently offers Day-Ahead trading in Serbia. EPEX SPOT provides market operating services to SEEPEX and holds 25% of the shares of the Exchange.
The Hungarian Power Exchange HUPX provides transparent and reliable reference prices for the Day-Ahead market in Hungary, serviced by EPEX SPOT. This cooperation contributes to the harmonisation of the trading and clearing systems in Europe, facilitating further regional integration of the Eastern European electricity market.
Since 2014, the so-called 4M Market Coupling connects the Day-Ahead markets of Czech Republic, Hungary, Romania and Slovakia. The power exchanges OKTE of Slovakia and HUPX of Hungary have selected EPEX SPOT as their service provider for the operation of their coupling solution.
Servicing the Integrated Single Electricity Market in Ireland
EPEX SPOT and ECC were chosen to support the Irish transmission system operators EirGrid and its affiliate SONI to set up the new local power exchange SEMOpx, which operates coupled Day-ahead and Intraday markets in Ireland since 30 September 2018. ECC performs clearing and settlement for all transactions concluded on SEMOpx.
Governance
EPEX SPOT is a European company (Societas Europaea) in corporate structure and staff, based in Paris with offices or affiliates in Amsterdam, Berlin, Bern, Brussels, London and Vienna. As part of EEX Group, a group of companies serving international commodity markets, EPEX SPOT is committed to the creation of a pan-European power market. 49% of its equity is held by HGRT, a holding of transmission system operators.
5 Boulevard Montmartre
75002 Paris
France
Number of employees (end 2020)
Traded commodities and traded volumes in 2020
Total traded volume: 615 TWh
Thereof day-ahead: 504 TWh
Thereof Intraday: 111 TWh
Thereof Intraday auctions: 10 TWh
CEO and Chairman of the Management Board
Director Public & Regulatory Affairs and Communications
5 Boulevard Montmartre
75002 Paris
France