TGE - Polish Power Exchange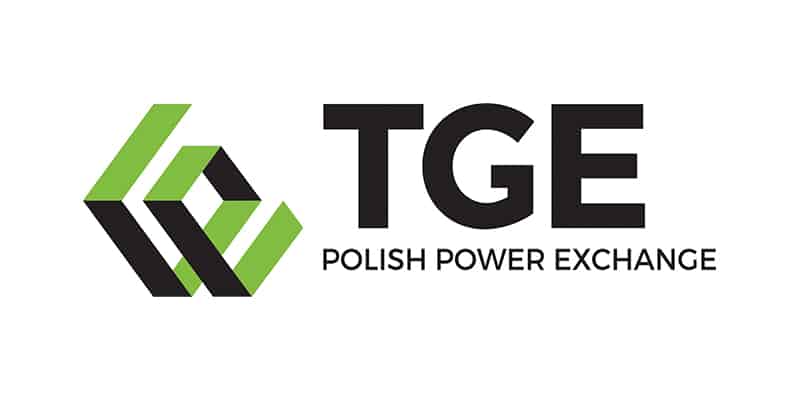 TGE (Polish Power Exchange) was established in 1999 and has been a key participant in the liberalisation process of the electricity and natural gas markets in Poland, creating the opportunity for transparent wholesale trade. In 2003, the company obtained a licence from the Financial Supervision Authority to operate a commodity exchange. Since February 2012, TGE has been a member of the Warsaw Stock Exchange Group.
TGE's product portfolio is in line with the most developed exchanges in the EU market. TGE continuously strives to adjust its product offering in line with the needs and expectations of the market. This has resulted in an increase in trading volumes and a steady growth in the significance of the exchange as a platform for concluding transactions in the Polish wholesale market.
Today, TGE members can trade in one place in electricity, natural gas, property rights related to renewable energy sources, cogeneration, energy efficiency support system as well as guarantees of origin (GoOs) and CO2 emission allowances. TGE operates both physical forward and spot markets for electricity and natural gas. TGE operates under the supervision of the Financial Supervision Authority, which provides market participants with the necessary confidence in the security of all markets offered by the exchange.
TGE is the Nominated Electricity Market Operator (NEMO) for the Polish pricing area and the only licensed commodity exchange in Poland, holding a licence to operate a regulated market since February 2015. On 15 November 2017, TGE started operating as a PCR coordinating exchange and operator on the European MRC market. In November 2019, the Exchange launched its cross-border SIDC Intraday Market based on the XBID model. TGE is included on ACER's list of platforms for reporting transaction information according to REMIT requirements.
ul. Książęca 4
00-498 Warsaw
Poland
President of the Management Board
Number of employees (2017)
Traded commodities and traded volumes in 2019
Electricity
Electricity spot market volumes: 34 TWh
Total electricity trading volume: 228.9 TWh
Natural Gas
Natural gas spot market: 23 TWh

Total natural gas volume: 146 TWh
Property Rights
Total electricity property rights volume: 43,896,220 MWh
Guarantees of Origin
Total GO volume: 19,124,096 MWh

President of the Management Board

Market Relations Director
Towarowa Giełda Energii S.A
ul. Książęca 4
00-498 Warsaw
Poland